MPR's Founder, Father Colman James Barry, O.S.B.
Sep 8, 2017
MPR cofounder Bill Kling reflects on Father Colman Barry, Order of Saint Benedict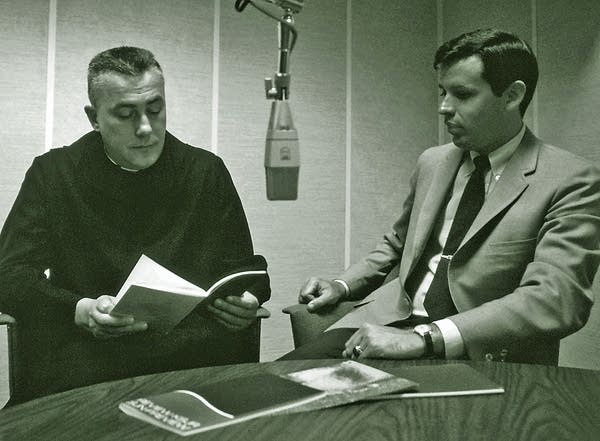 We honor our founding Chairman, Fr. Colman James Barry
As most of you know, this is Minnesota Public Radio's 50th anniversary and a time to reflect on what helped us create this remarkable achievement for Minnesota and the nation. MPR had two key founders. I was one of them, serving as MPR's first president for 44 years and, since 2011, as President Emeritus. The other is Colman Barry, OSB, a monk at St. John's University who had remarkable insight on how to extend the traditional Benedictine values, the enrichment of education and the arts and culture of St. John's to the broader community.
Father Colman Barry was born in Lake City, Minnesota in the same town where my grandfather had his farm. They all spent time on the shores of Lake Pepin though, as far as we know, the families did not know each other. Both families were Irish American households. Colman came to college at St. John's in 1938, a few years before I was born in St. Paul. There Colman received his degree in history, with honors.
Fr. Colman was one of the most effective entrepreneurs ever encountered in any for-profit or non-profit company or institution. He founded the St. John's Center for State and Local Government and the Ford Foundation-funded Micro-City project; the Hill Monastic Microfilm project - now world famous for preserving ancient manuscripts before they are lost or destroyed; the Institute for Ecumenical and Cultural Research and its Breuer-designed community on the shores of St. John's Lake Watab. He oversaw the completion of the Breuer campus additions of the Science Center, the new library and several college dormitories all the while working to strengthen the funding for the academic departments of the College.
When he became president of St. John's in 1965, he began immediately assembling the people and the resources to make St. John's one of the premier educational institutions in the country. He took incredible risks. Yet, his early decisions created some of the most enduring and important enterprises any college has ever launched. One of those was Minnesota Public Radio: an entity he believed in so strongly -- he was so prescient about the future media needs of the people of America -- that it became one of his greatest achievements.
Colman was a mentor and a friend, a complex and exciting man--an entrepreneur. He would dream big dreams, fight to get them started and protect them as they grew.
As an entrepreneur, he took big risks. He hired this then 23-year-old to launch MPR. He backed a technology (FM radio) that was in its infancy at the time. He allocated rare funds to support the early stages of MPR and he saw immediately that to be as strong as he had envisioned, MPR needed to have its own independent mission and board of trustees - and he helped make both possible, including convincing his fellow community members of St John's. It wasn't easy. Some even called it "Colman's folly." But without those courageous and risky decisions, we would not be celebrating MPR's three-network 50th anniversary.
In 1973, six years after MPR had begun broadcasting at St. John's, Colman wrote: "Many congratulations. I am so proud of and for you. What a dream we had." And then in 1980 at the dedication of the then "new" MPR building, Colman addressed the assembled crowd of supporters with the words: "Sometimes dreams do come true". Colman died on January 7, 1994 almost 27 years after the founding of MPR and was buried in the St. John's Abbey cemetery. Fr. Colman Barry made the dream of MPR possible. As part of our 50th anniversary celebration this month, we honor our founding Chairman, Fr. Colman James Barry, former president of St. John's University.
William H. Kling
Co-Founder and President Emeritus
Minnesota Public Radio