KNSE 90.1 MPR News / KLSE 103.3 YourClassical MPR / KNSE HD2 103.9 The Current
News & Events
Regional Development Advisory Council
The public is invited to meetings about MPR stations KLSE, KZSE, KMSE, KLNI, KLCD, KXLC, KGAC, KNGA and KNSE. These bi-annual meetings are scheduled in March and September. For further information call 507-292-8630.
Learn more
Contact Us
Station:
Minnesota Public Radio
1530 Greenview Dr. SW, Ste. 215
Rochester, MN 55902
507-292-8630 tel
507-282-2107 fax
Staff:
Kay Hocker, Regional Manager: khocker@mpr.org
Stacy Davis, Lead Traffic Associate: sdavis@mpr.org
Catharine Richert, Correspondent: crichert@mpr.org
Anne Vandelac, Account Executive: avandelac@mpr.org
If you have information or suggestions for news stories, please contact Catharine Richert at 507-292-8637 or crichert@mpr.org.
For information on how to get your business message on-air or on the MPR web site, contact Anne Vandelac at 507-292-8638 (office) or 218-393-7056 (cell) or avandelac@mpr.org.
For all other inquiries, contact Kay Hocker at 507-292-8636 or khocker@mpr.org.
Listening Area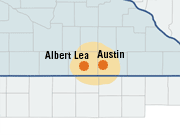 About the Stations
KNSE 90.1 FM MPR NEWS
Established: Dec 2003
Station power: 6,000 watts
Program schedule
Translator station
KNSE HD2 The Current 103.9 Albert Lea
KNSE HD2 The Current 103.9 Austin
KLSE 103.3 FM YourClassical MPR
Translator Stations
KLSE 103.3 Austin KZSE HD2 88.1 La Crescent
KLSE 107.3 Winona