Helping Children to Love the Skin They're In
Jun 29, 2022
As parents and caregivers, we need to be intentional about helping children–especially children of color–develop a strong foundation of positive self-esteem and ego strength. This protects them from internalizing racist messages and helps them to build a positive racial identity. Research studies show that having a positive racial and ethnic identity is associated with higher resilience and problem-solving skills. But where should parents and caregivers begin?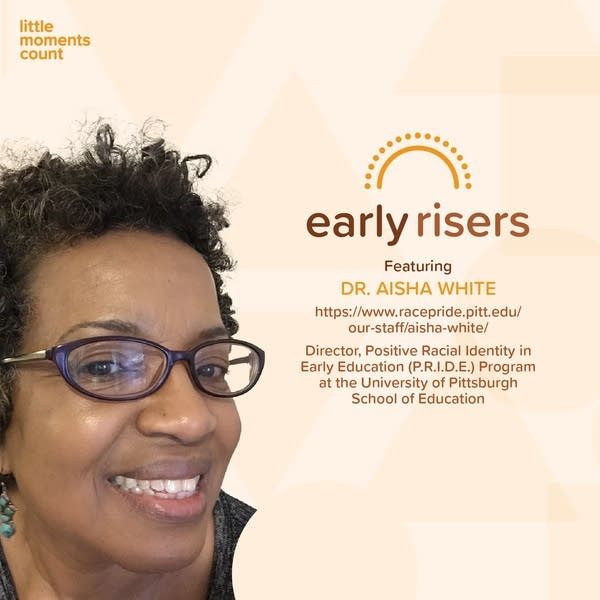 Guest: Dr. Aisha White directs a program called Positive Racial Identity Development in Early Education, based at the University of Pittsburgh, that supports the positive racial identity development of Black children. This includes feeling good about their skin color and hair texture, as well as having positive associations about belonging to a larger Black community and diaspora. It's a way of countering the anti-Black racism in this country, with roots reaching far back to the transatlantic slave trade, the Jim Crow era that followed, and whose presence continues to impact us today.
Early Risers Season 3 Episode 3 Discussion Guide
Episode Resources:
Dr. White served as an advisor on this Emmy Award-winning PBS Kids Talk About Race and Racism special that models how parents can engage with young children in conversations about race.
Dr. White wrote a personal essay about an encounter she had with her grandson about colorism and how she responded when he told her that a book character's skin was "too dark."
"How to Talk Honestly with Children About Racism": In this article for PBS Kids, Dr. White offers resource suggestions and concrete actions parents and caregivers can take, including specific activities and picture books that can open up conversations about race and racism.
In this interview, Dr. White discusses her work in children's media, including how she advises script writers to represent Black characters authentically.
Dr. White mentioned the work of Louise Derman-Sparks, a longtime leader in anti-bias education in early childhood. Early Risers host Dianne Haulcy interviewed Louise Derman-Sparks in 2021. You can listen to that episode here.